System Options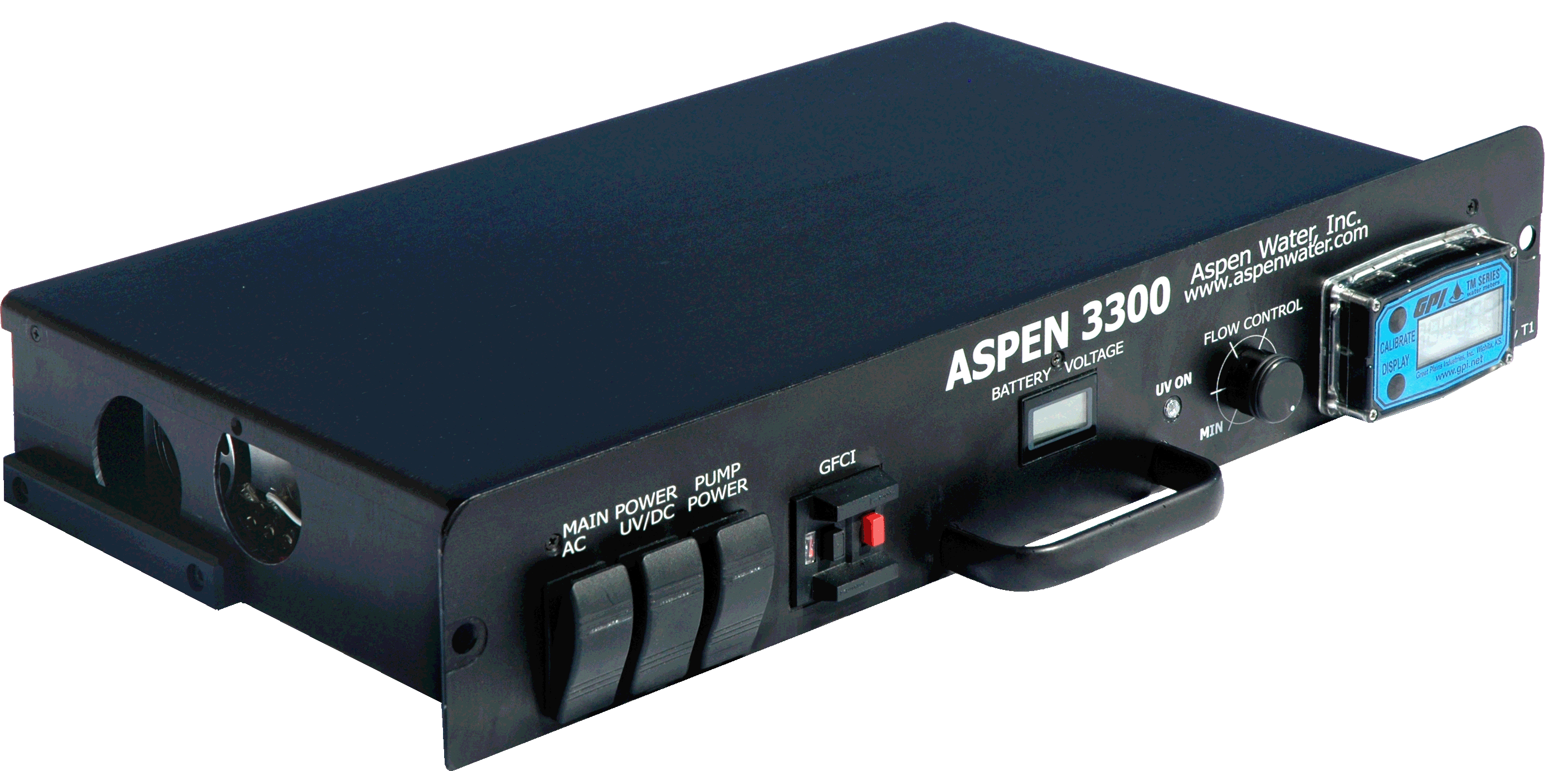 Replacement Electronic Control Drawer (ECD)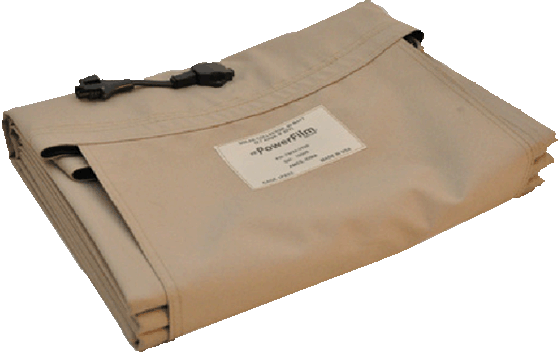 Folding Solar Panel 240 Watts
Chlorinator Option
Potable Water Bladder pictured with Transfer Pump Parts Package
Maintenance Parts Package (Approximately One Year of Service)
Consumables Package (Approximately One Year of Service)
Aspen 3300m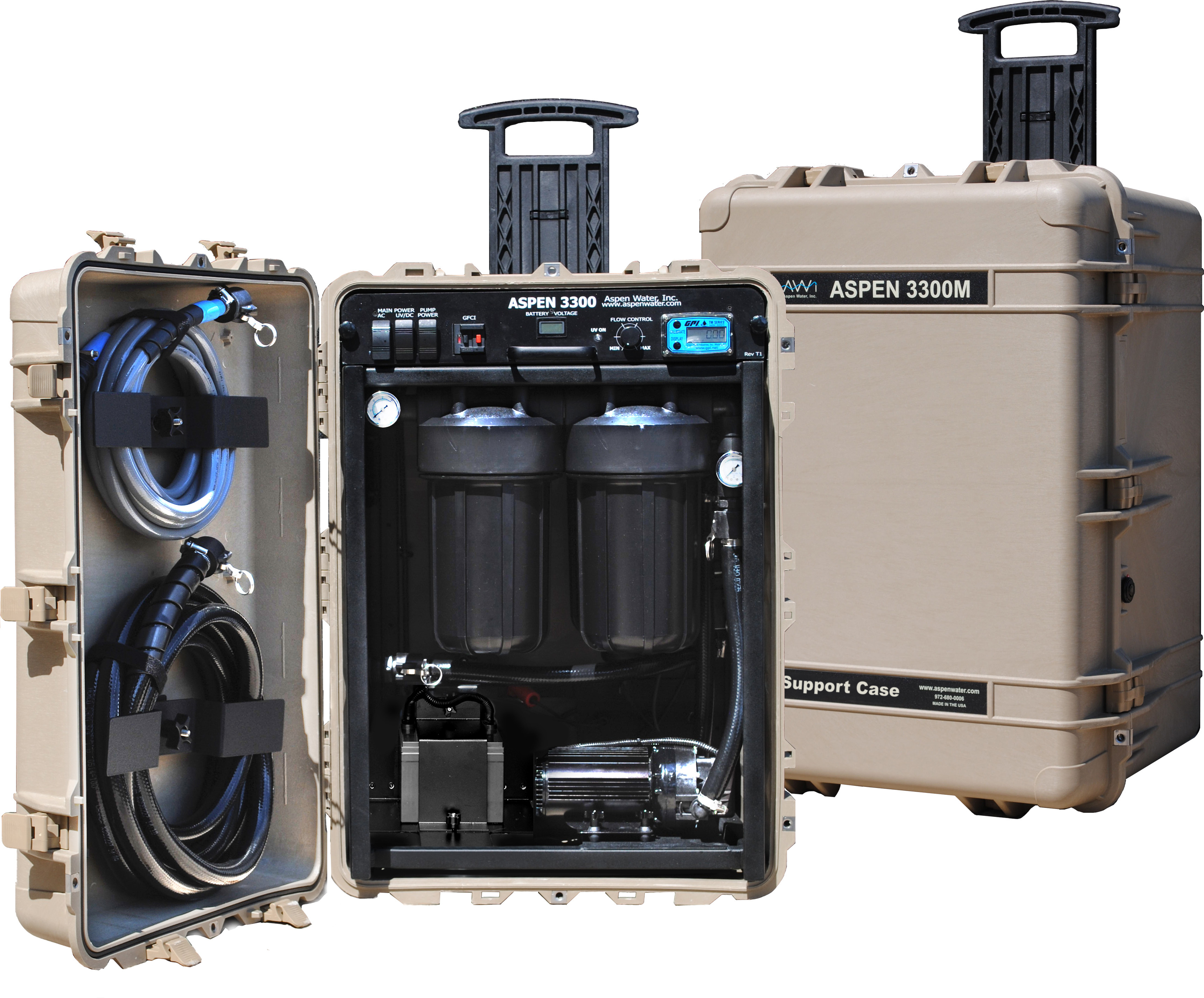 The ASPEN 3300M
is a fully enclosed expeditionary, non-saline water purification system. It supplies 2500- 3300 gallons (9464-12,492 liters) per day, approximately 125-150 gallons (473-568 liters) per hour, of highly purified water from virtually any non-saline water source. Water can be drawn from lakes, rivers, ponds, ditches, or standing water that may contain chemical and/or biological contamination.
Dimensions
Cases are 32"x23"x19.5" (81.28cm x 58.42cm x 49.53cm). Each case weights 110 lbs (50 kg) when dry and is designed for a two-person carry.
Multi-Stage Filtration
Stage one removes larger debris before it enters into the external mesh pre- filter. Next, mesh pre-filters remove sand, dirt and very fine particles, including harmful microorganisms, such as paramecium, amoeba, Giardia, cryptosporidium and other small matter down to 1 micron in size. After treatment by the media canister and UV disinfection (discussed below), the final step is post -filtration to remove tannins that may cause the water to have a brownish tint. Note: Water to be stored should be treated with chlorine bleach. An optional chlorine dosing unit is available.
Contaminant Removal
The replaceable media canister effectively treats 20,000 gallons of surface water containing high levels of man-made pollutants such as solvents, insecticides and petro- chemicals and other contaminants such as lead, barium, and selenium. When used to eliminate possible microbial contamination in clear water, the canister may be used for up to 25,000 gallons. The 3300M is most effective when the flow rate does not exceed 2.35 gallons per minute.
Disinfecting
An ultraviolet (UV) lamp system is included. Rated at 4.8 gallons per minute (18.2 liters per minute), it provides as much as twice the safety factor required by US regulatory agencies and exceeds World Health Organization (WHO) standards for total disinfection. UV is much faster-acting than chlorine bleach and has been found to destroy over 99.99% of pathogens, including E. coli, cholera, typhoid, anthrax and polio.
Power Source
Operates on single phase 90 to 260 volts AC at 50 or 60 hertz as well as 10 to 30 volts DC, virtually any power source. The maximum power consumption is less than 200 watts. Run time on a fully charged battery alone is 2 to 3 hours. Comes standard with a NATO 24-volt DC power cable.
Pressure
The variable speed, self-priming, low voltage pump can draw water up to 12 feet and provides water on demand at pressures between 5 -35 pounds per square inch (psi).
Triple Mode Display
A digital display shows the volume of water passing through the system, total run time of the filter canister, and the total run time of the UV exposure unit.
Safety Features
The operating and monitoring components are designed with a two-stage protective shutdown circuit. First, the overall system automatically shuts down in the event of a failure during the disinfecting process. Automatic Action: The pump will stop and a valve will close, stopping water from passing through the system.
3300M Design Criteria